History of Deutsche Bank in Hungary
1870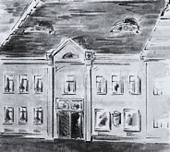 Deutsche Bank was founded in Berlin to promote and facilitate trade relations between Germany and international markets.
1906
Cooperation of Deutsche Bank and Pest Hungarian Commercial Bank (Pesti Magyar Kereskedelmi Bank)
1908
Deutsche Bank acted as lead manager for a bond of Ungarische Localeisenbahnen AG
1915
Deutsche Bank participated in the foundation of Ungarische Erdgas AG (Hungarian Natural Gas Stock Company)
1940
Deutsche Bank acquired a stake in Pest Hungarian Commercial Bank.
1987
Deutsche Bank arranged a one billion D-Mark loan to the National Bank of Hungary.
1990
Opening of a representative office in Budapest.
1996
Deutsche Bank set up a Hungarian subsidiary Deutsche Bank Rt.
1999
Deutsche Bank launched Domestic Custody Services (DCS) in Hungary.
since 2000
Deutsche Bank Hungary's Capital Market Sales team has acted as a primary dealer of Hungarian Government Securities.