History of Deutsche Bank in Sweden
1870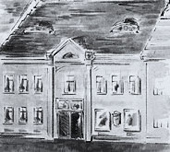 Deutsche Bank was founded in Berlin to promote and facilitate trade relations between Germany and international markets.
Since 1875
Deutsche Bank participated in the underwriting of several Swedish government loans.
1971
Deutsche Bank acted as co-manager in the capital increase of Atlas Copco AB in Stockholm, and participated in underwriting of loans for several Swedish issuers on the German capital market.
1976
EBIC's office in Toronto was transformed into a representative office of Deutsche Bank.
1977
Deutsche Bank participated in the underwriting of a public loan for the Kingdom of Sweden on the German capital market.
1995
Deutsche Morgan Grenfell, the investment banking division of Deutsche Bank, established an equity sales and research office in Stockholm.
1998
The Stockholm office received branch status with a wide range of services in investment and commercial banking and asset management.
2005
Deutsche Bank opened a new investment banking center in Stockholm dedicated to strengthen the ties with local corporate clients.
2006
Deutsche Bank acted as sole global coordinator and joint book runner for Swedish healthcare group Capio Group for its SEK 2.0bn (EUR 215m) hard underwritten one-for-five rights issue.
2007
Deutsche Bank completed a EUR 1.1bn underwritten rights issue for Swedish steel-maker SSAB (Svenskt Stål AB). This was the largest underwritten Swedish rights issue since 2002.