History of Deutsche Bank in the Philippines
1870
Deutsche Bank was founded in Berlin to promote and facilitate trade relations between Germany and international markets.
1889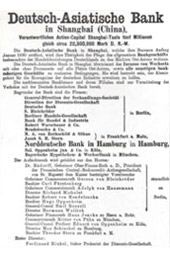 Foundation of Deutsch-Asiatische Bank in Berlin – as a special institution for the East Asian market – by a German bank syndicate led by Disconto-Gesellschaft and Deutsche Bank.
1972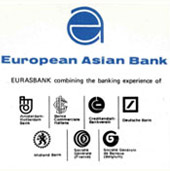 Deutsch-Asiatische Bank and its branches were integrated into the newly founded European Asian Bank.
1975
European Asian Bank opened a representative office for the Philippines in Manila.
1977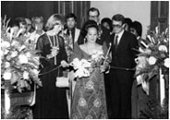 European Asian Bank opened its Manila offshore branch. European Asian Bank acted as lead manager of the underwriting of a US$ 105 m. loan for the Philippine Long Distance Telephone Company.
1986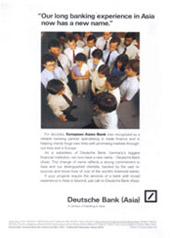 European Asian Bank became Deutsche Bank (Asia).
1988
Deutsche Bank (Asia) was merged into Deutsche Bank AG. The offshore branch in Manila began to operate under the name of Deutsche Bank AG.
1995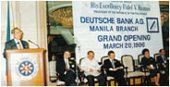 Deutsche Bank Manila launched its full commercial banking operations.
1999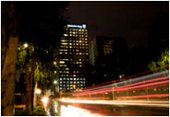 Foundation of Deutsche Regis – today the country's number one equity broker.
2005
Deutsche Knowledge Services Manila ROHQ is established to provides shared services to DB Group worldwide
2009
DB Manila Branch receives Type 1 derivatives license
2011

DB Manila is granted a universal banking license by the Bangko Sentral ng Pilipinas
2012
DB Manila is granted a securities underwriting license by the Securities and Exchange Commission
2020
DB sold its interest in Deutsche Regis Partners Inc. NB. May need to be mentioned if we are keeping the below 1999 note
Deposits are insured by PDIC up to P500,000 per depositor. Deutsche Bank AG Manila Branch is regulated by the Bangko Sentral ng Pilipinas (BSP). For inquiries or complaints, including those concerning PESONet, you may call Deutsche Bank's Client Services at (02) 8894-6955 or send an email to ams.manila@db.com. You may also contact the BSP Financial Consumer Protection Department at (02) 5306-2584, (02) 8708-7087 or consumeraffairs@bsp.gov.ph, as well as through its chatbot at www.bsp.gov.ph or facebook.com/BangkoSentralngPilipinas.