History of Deutsche Bank in the Czech Republic
1870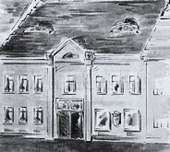 Deutsche Bank was founded in Berlin to promote and facilitate trade relations between Germany and international markets.
1990
Opening of a representative office of Deutsche Bank in Prague.
1993
Deutsche Bank received the license to open a full service branch in Prague.
1994
The representative office is converted into a branch.
1999
Deutsche Bank acted as co-manager of a public bond of Euro 200 m for the city of Prague.